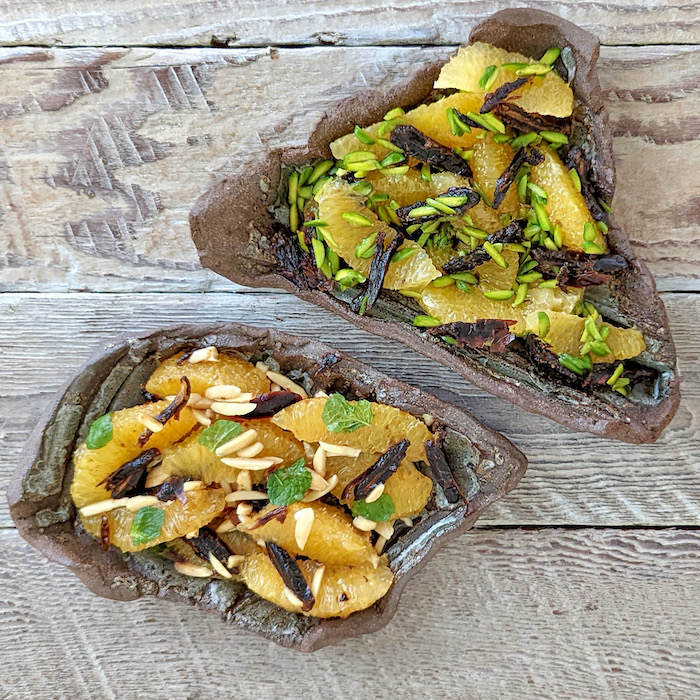 Once you discover how easy it is to segment an orange, you'll be making this simple dessert regularly. Use vivid Persian pistachio slivers instead of almonds if you like (no need to toast them) or add some pitted olives, chopped parsley, olive oil, salt and pepper for a delicious savoury version. This orange salad is a great dessert on its own and a wonderful accompaniment to other citrus desserts.
Serves 2

Ingredients
15g slivered almonds

2 oranges

30g pitted dates, sliced into thin slivers


A few tiny mint leaves
Method
Toast almonds in a 160°C oven for 10-15 minutes, turning them occasionally, until lightly coloured.
Meanwhile, remove the skin and pith of the oranges with a small sharp knife then, holding the fruit in the palm of your hand over a bowl, cut along the sides of the white fibres and drop the clean segment into the bowl. Squeeze the remaining fruit over the bowl to extract the juice.
Place orange segments, almonds, dates and mint in a clean bowl and toss well to combine (drink the orange juice).
Serve immediately (or add mint at the last moment if preparing ahead of time).